My wife and I were in our mid 50's just a few years back.
Though we were both gainfully employed, each with our own business, it was beginning to dawn on us that we had not provided sufficiently for our 'twilight' years.
The problem was, that we had both spent most of our time building a business's that were really only trading time for money – and with mainly only 'goodwill' value.
That is in fact until we came across a business model that stood the test of our every scrutiny.
Network Marketing and in particular, a company called Forever Living Products, came our way.
Firstly the Aloe Vera based products proved an outstanding success easing a chronic Asthma problem my wife Mary was suffering. The quality of the product is a hallmark of the company. Aloe Vera is one of those historic 'wonder' plants of nature and is preserved in its natural state by Forever.
We were so impressed with the quality and health benefits of the products that we took advantage of the offer to buy the products at wholesale prices.
It was later that we discovered Forever also offered an opportunity to start a small part-time business using the 'product recommendation' plan to build a customer base.
But we also discovered that Forever Living is much more than just a retail business. There is also an opportunity to build a significant income stream with a Royalty quality that would furnish us with a secure retirement income.
Today, our Royalty income is substantial and far beyond what we ever thought possible.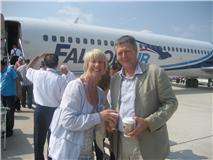 Forever has secured our financial needs and provided us with a financial future free of money worries. Not only do we get to travel the world now, but we also get to work with some of the most inspirational people on the planet.
Forever's business model is much like a 'Franchising' system. Network Marketing is what it says on the tin …networking and marketing. A simple model of low-cost efficiency coupled with high marginal returns. It is such a simple pleasurable way of doing business in the world.  It makes you wonder sometimes why Network Marketing is still a relative enigma and has somehow been missed by mainstream business.
The 21st century is undoubtedly changing this perception as more and more people discover the inability of the mainstream of business and employment to promise long term income security.
With annual growth figures in this industry now breaching 20-50% in some countries, it is no doubt that the 'home-based' business idea is being treated as not only a secondary household income stream but a serious organization builder with the promise of six and even seven-figure incomes for the industrious entrepreneur.
So it is, that my wife and I are in awe and gratitude that Network Marketing and in particular, one of the most successful MLM companies on the planet, Forever Living Products, came our way.
More info?
I would be delighted to show you.
E: <johnrussellent@gmail.com>